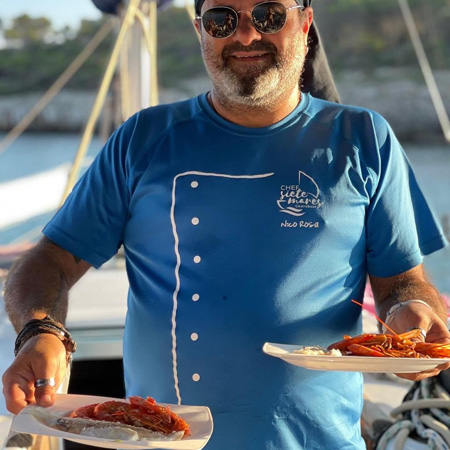 Chef Nico Rosa has more than 30 years of experience working in the kitchen, of those, 15 years dedicated to his School of Gastronomy, in Brazil, São Paulo. Where he has trained thousands of students.
Throughout his career he has studied in Schools such as Cordon Bleu ( France, São Paulo and Otawa ) ICIF ( Italy ), CIA ( Culinary Institute of América / Greystone Napa Valley USA ), EACL São Paulo. Well as he has worked in restaurants of famous Chefs such as Arzak, Daniel Garcia, Sergi Arola, Tavares Rico, Alain Ducassé, Alex Atala among others.
Nico has always had a restless and traveler spirit and has decided that,he was going to look for new flavors. Then 08 years ago the Chef continued to Italy and after living in Milan, London and Madrid, he has decided to live in Mallorca, an island that has fascinated him, mainly for its gastronomic charms and its exquisite flavors. And now he fulfills an old dream, bringing together his two great passions, gastronomy and sailing.
From this dream, his new project is born, to take his kitchen aboard the sailboat CHEF SIETE MARES, a unique and challenging idea, because for that the Chef had to develop many techniques to make a rich and flavorful cuisine, and that everything, in a kitchen that floats and moves a lot to all sides, and the Chef has achieved success.
Now you can be received by the Chef with typical flavors of the Mediterranean, especially from Mallorca, carefully studied and selected by him.
Chef Nico Rosa invites you to let go of the moorings and set sail on this journey full of flavor and unforgettable rides.
A cordial greeting !!
Recommended by: